Heritage Management Consultancy Research of UNESCO Mixed World Heritage Property:
Mount Emei Scenic Area, including Leshan Giant Buddha Scenic Area
《峨眉山世界文化遗产风景区管理系统评估报告》
UNESCO World Heritage | Heritage management | Mixed heritage property
Milan, Italy (2019)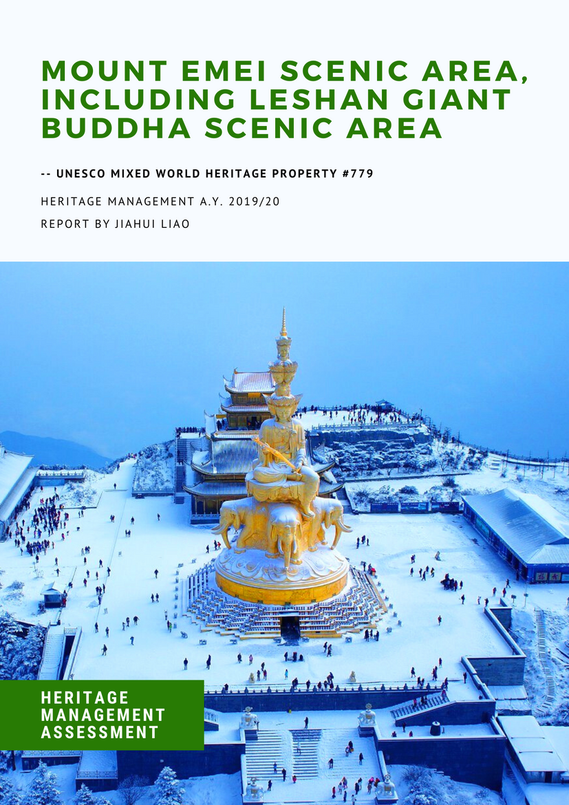 Supervisor: Jane Thompson

Report by: Jiahui Liao, as research assignment for Bocconi-ICCROM course "Heritage Management"
This study aims to assess the management system of the UNESCO inscribed mixed (natural/cultural) world heritage property: Mount Emei Scenic Area, including Leshan Giant Buddha Scenic Area, within the context of management issues raised by multiple ownership, complex governance, conflicting values, and the relationship between cultural heritage places, the communities within and around, and the society as a whole. The study also aims to explore how sustainable development considerations could reshape heritage management practice for World Heritage but also for cultural heritage more widely.
The report starts from the analysis of the property's significance and key attributes, general setting and stakeholders, and leads to the assessment of the adequacy of the management system with the nine-component framework, as introduced in UNESCO World Heritage Resource Manual: Managing Cultural World Heritage (2013), with the provision of specific advice.
This report is further developed for a comparative analysis with work done with other cultural landscape World Heritage properties by other students in a Bocconi research group appointed by ICCROM (through the course director and ICCROM Consultant Jane Thompson) to help ICCROM advise countries (through their respective heritage institutions) that are aspiring to upgrade management approaches for heritage properties already inscribed in the World Heritage List.
List of the cultural landscape properties:
The Climats, terroirs of Burgundy (Francois Gabrielle)
Cultural Landscape of Sintra (Jafarinasab Kermani Shirin)
Mount Emei Scenic Area, including Leshan Giant Buddha Scenic Area (Jiahui Liao)
Silk Roads: the Routes Network of Chang'an-Tianshan Corridor (Pallotta Giovanna)
Trulli of Alberobello(Rea Francesca)
Pyrénées - Mont Perdu (Schwebach Claire)
The comparative study among different cultural landscape properties aims to make broader conclusions and recommendations for improving future heritage practice and building management capacity and resilience.